Spain - Nov-2018 - Feb-2019 ---- 6

Entry posted by Jaydug ·
785 views
It's two weeks since I arrived at El Pino and the weather has been pretty awful. In fact, it's probably the worst autumn weather I've experienced in all the years I've stayed here. Yes! In previous years we've had rain that's gone on for 36hours at a stretch. But then, it has stopped and the sun has returned again. Not so during the past fortnight. Just an odd dry day interspersed with day after day of thunderstorms and torrential rain, turning site roads into rivers and flooding some of the pitches. This was just one day.
https://www. youtube. com/watch?v=WezpqWkC1KE&feature=youtu. be
All of which was probably responsible for the rock fall which occurred last Tuesday along the coast road. A lump of rock - the engineers estimate the weight to be in the region of five tons, detached itself from the cliff face and rolled down into the road completely blocking it in both directions.

Before it could be moved, breakers had to be brought in to cut it into manageable pieces. The road will remain closed until the cliff face can be secured and the road surface repaired.
A section of about ½ mile is closed

And here is where the fall occurred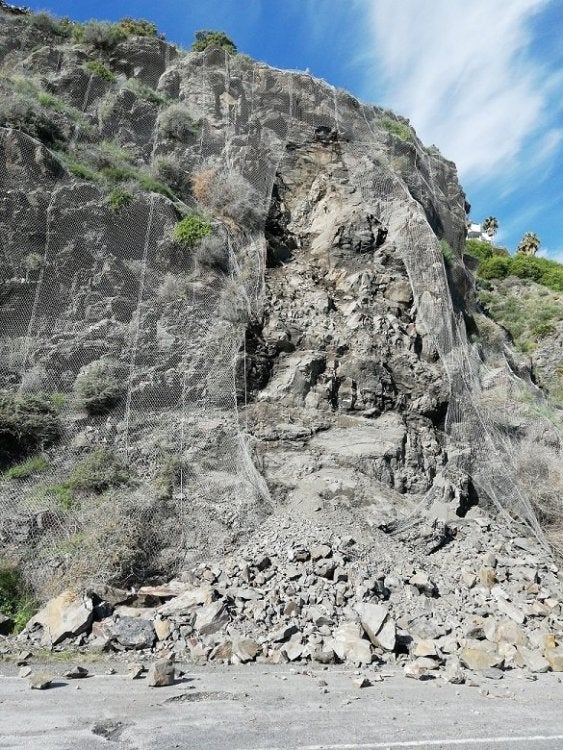 The road surface is damaged, the Armco barrier bent where the rock hit, then rolled back to the centre of the road.

The A7 motorway runs through the hills, about 2 miles inland, but the coast road carries a lot of local cars and buses. The gods were certainly smiling when they arranged the fall to coincide with a lull in the traffic.
Happily, the weather has changed for the better and we are able to get out again. I rode the bike along the coast road to see how repairs were progressing. They weren't!