Buying a Second Hand Caravan
Buying any vehicle used can become a daunting task-choosing the right one at the right price and making sure that you get a good buy for your money and also you simply don't get ripped off! Well here we have a guide to help you chose a tourer that isn't a rotting shed on wheels. Although your budget will be the main decider on the condition of tourer you decide on even the later models on the used forecourt will need some closer examination. Back ground such as service history and any repair work carried out will give you the buyer some indication on how the caravans been used and looked after over its lifetime. We look at the exterior and show you what to check for and also interiors too. If you do your homework and take your time and read our to look for sections, then your chances of avoiding the pitfalls are for the better. Damp, missing road lights and scratched sinks we tell you the lot. So get ready to use some shoe leather and check out what's on offer in used tourers.
If your not sure about being confident to buy private and funds are limited then it's a the dealers forecourt for you. Private buys can prove a good move but also a bad one too. Take along someone who knows what to look for and also don't be afraid to ask questions as to servicing and any repairs that may have been carried out. Also ask the seller for proof of ownership. Don't forget to older tourers will have more possible problems to look out for and with a private buy you don't have the comeback associated with a dealer.
---
You can comment on this article in our forum:
Buying a Second Hand Caravan – Forum Topic
---
A dealer will make sure the van is safe for towing and using gas/electrics so it's down to keeping your eyes peeled for badly stained carpets, missing taps and delaminating floors. On cheaper tourers dealers will have a notice in the window telling the would be buyer that the van will need work carried out to make it fully useable. On more newer tourers dealers and some manufacturers warranties will be valid but private sales will of course only have what's left of a makers warranty but check it's interchangeable.
So much to look out for then when it comes to buying a used tourer, but as mentioned earlier it doesn't have to be a to daunting task and taking care and doing our checks and you will get yourself a good pre-owned tourer that will give you years of touring pleasure. So let our expertise guide you in getting that perfect model. One word of warning though-damp testers are a good tool, but like anything if miss-used false readings (such as condensation being read) may see you reject a van that's perfectly dry! So take your time and if necersery print out a copy of this feature and were sure you will get a cracking buy!
Exteriors and what to look for
Side aluminium panels are easily damaged
One of the first things you will notice about caravans is in most cases side aluminium panels are easily damaged. The thin gauge is dented easily and a common reason for this are caused by the mishandling of awning poles. Not the end of the world but unsightly, so those last clumsy owners have left you a small fill in repair job. Also if you see small bubble type holes in the aluminium then this can be caused by a glue/aluminium reaction and basically rots the aluminium from the inside.
Hitch stabiliser pads
Being seen more and more, the hitch stabiliser – a worthy addition to any tourer and one that you will find increasingly on used models too. Working using friction pads the coupling helps reduce pitching and instability but check the pads are in good order as it could be a £50-£60 bill for new ones.
Check the plastic trim beading
On older tourers around 15 years in age check the plastic trim beading, it can deteriorate with direct sunlight and general weathering it's easily replaced but it may be difficult to obtain the right colour for your chosen tourer. It's not a big issue though so shouldn't put you off the van in question.
Damaged trim edges
Trim edging damage can be a major problem, if the sealant is getting dry and the trim is left off, water ingress is basically inevitable. So if the tourer your looking at has this type of damage check the trim can be replaced and also that the sealant hasn't let water into the body work. Left the damp problem will worsen and major repair work costing from £500 plus could be the outcome.
Faded body panels
Faded body panels – well it happens on GRP and aluminium sides and to bring them back to life again some good quality polish with a cutting agent is needed. Use a sponge or soft bristle brush to wash the muck off using a quality car shampoo such as HD Autoglym car shampoo and then rinse of and dry and then begin to use the polish on small areas. It may take up to six applications to bring back the shine – but badly faded ones you won't get back that new look, it's generally gone for good.
Faded graphics
Faded graphics can be replaced by getting a copy of the original and taking it to a printer / graphics shop who should be able to do a close copy of the original for around £20 or more.
Check out the makers plate to date the caravan
Used caravans are not always easy to date, so check out the makers plate usually by the entrance door look for serial numbers and also the vans weights will usually be displayed too. If it's not by the entrance door check the front A-frame, on some imported makes it's placed here. Also the CRIS registration number etched into the windows on older models
The A Frame
The A Frame is the link to the car and it's this important area is looked at in interest. Check the coupling and the damper pushing the coupling back look out for any lack of it returning, a new damper is needed if the return is slow. Check the handbrake too, if it takes the whole brake to be pulled back the brake requires adjustment. Also jockey wheels are usually damaged, and go missing, so a new one will be needed as it's this useful item that helps you manoeuvre and jack the van up. If a mover is fitted make sure it works,
Check the vans tyres
Check the vans tyres, a tourer of just five years of age will most likely need a new set of tyres. Tourer tyres don't wear out as such – due to long standing periods and the suns rays they perish and crack. They need changing sooner rather than later to avoid a potential blow out. Ask the seller if the tyres have tyron safety bands fitted a good safety feature with a blow out.
Exterior side locker door damage
Exterior side locker doors can get damaged and go missing, check to see with the seller if a new / used replacement is available. This type of locker door can be located at most caravan breakers.
The chassis
By the early 80's most tourers had galvanised chassis so rust wasn't going to be the problem it had been in the past. However nothing is 100% maintenance free, so the corner steadies and running gear still need greasing and the jockey wheel should move up and down easily.
Wheel rims
Take the wheel trims off to examine the state of the rims, this Marauder from 1986 still has the originals on but are looking very corroded so a new wheel replacement is needed most likely for both sides.
Window seals and sealed units
Check window seals, especially sealed units as on the A.B.I and Cotswold models where rubber sealed units can perish and let in water. Check for any patchy repair work where sealant has been used to stop a leak –these design windows don't open but if they are badly perished finding and fitting a replacement isn't easy and could prove expensive.
Broken and cracked windows
Windows that are broken are then in need of repair, check for large cracks that the last owner may have tried to glue! Completely broken windows may look easy to replace but do check on the replacement factor first. Windows can be sourced through caravan breakers or specially made by some companies. Window stays and flyscreens can be damaged so again look at cost of repair.
Damaged locks and doors
Door locks can be easily replaced if they fail but damaged doors where forced entry has been tried means the door may need replacing again a caravan breaker is the best place to source one and if its only one half of the door then this will be the only piece in need of replacement. Again check that the type of door you need is still available.
Grab handles
Grab handles will tell you the state of play regarding some of the vans structural strength. If they move they have either just "worked loose" or damp has developed and rotted the frame fixings. It needs to be checked to make sure it's not the start of major problems ahead.
Road lights
Road lights can be some of the first items on a caravan's exterior that gets damaged. The rear ones are usually the most easily broken and depending on he type used can be expensive to replace. Most caravans road lights are still available stretching back 15 years plus but again it's most important that you can find a replacement.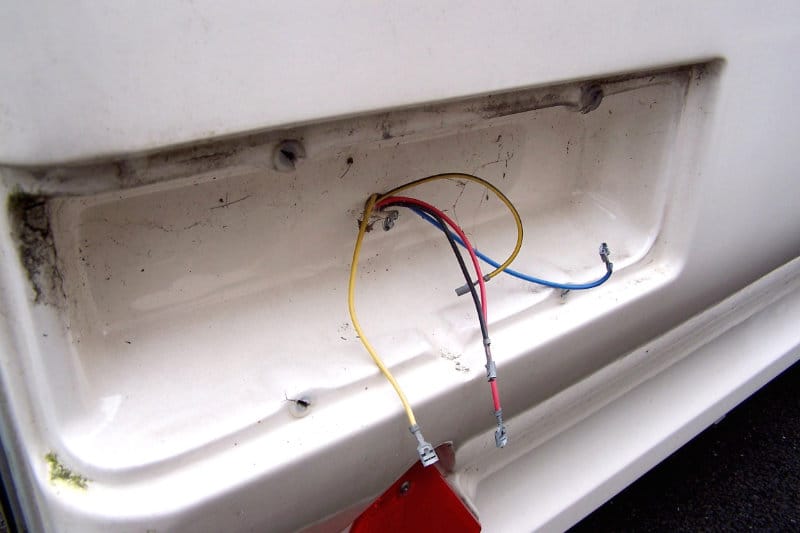 Exterior sockets and flaps
Just as the road lights such items as BBQ points and as the picture exterior mains sockets the plastic flaps can get broken. So a replacement may be better bet which are readily available from most caravan accessory shop.
Damaged side panels
The dreaded dent – caravan sides are easily dented and it doesn't take much to do damage such as this. Damaged panels like the one pictured here can be filled in as a car repairer may do, more extensive damage though would see a new panel being applied. With bonded sides a new panel is simply applied over the damaged one. Again on any used tourer check the extent of damage done so you're not in for a nasty surprise to have it repaired.
Caravan movers
One of the most useful add-ons is the mover, enabling the caravan to be moved via motors and an on-board battery. Some dealers leave them attached and charge extra to keep it that way. Make sure that the mover is working, they can need replacement parts no matter the manufacture of the mover so again make sure that parts are easy to get hold of and replace.
Badly repaired damage
As mentioned earlier damaged panels can be filled in but at times some owner has left more of a mess than the original damage. If the caravan you're buying has a poor repair job then again check how and how much it's going to cost to have the repair seen to properly. It could also be hiding more problems so again it needs to be looked at closely
Roof damage
If possible get up to roof level, check no damage has been done such as a blown off roof tile has pierced the aluminium skin allowing water to penetrate. Buyers tend to miss looking on top of the caravan but also check roof seals and seals around the roof/sides and also seals above front and rear panels. Check too that the roof is clean and hasn't been left – we've seen many a shiny tourer with the roof covered with tree sap. Look at moulded front and rear panels for signs of stress cracks another major source of leaks.
Interiors and what to look for
Caravan background: booklets and dealer stamps
Background on the caravan you're interested in is the icing on the cake once it's passed the other scrutinising. Check the drawers and if you get a tourer with all its booklets in for the appliances and a few dealer stamps for service then it tells you much about the vans history. Owners who have been careful will usually note all repairs/servicing that's been carried out over the years and even the original invoice of purchase and dealer bought from new may still be recorded.
Check for repairs
So what's wrong here then? Well apart from looking for damp inside roof lockers etc also check if the van has been repaired for such as the aforementioned problem. Check to see if the wall-board matches up and if it doesn't as this example shows then a repair has taken place-sure the board doesn't match but the main concern is that the water ingress has been dried out and repaired correctly.
Carpets
Touring caravan carpets were never designed to withstand lots of foot traffic and with such colours as dusty pink being used they stain very easily. Check for this because by the time you have messed about cleaning a badly stained carpet its better to simply replace it. With loose fit carpets it could be easier to replace than trying to get out bad stains.
Is the floor sound?
If the carpet does need replacing do one other check secondly, see if the floor feels springy to walk on. Check by the door and kitchen areas, where foot traffic is at its heaviest. If this is the case the floor is in need of repair which involves taking the carpet out so do this first before getting a new carpet laid. The floor sandwich breaks up and a spongy feel and creaks are tell tale signs.
Check for water ingress
Check for water ingress coming into the window bases ( it will be black beneath the seal whilst also checking that the plastic surround hasn't become damaged by sunlight and buckled and split. Rear corners can also show signs of water ingress with damp patches.
Caravan worktops
Caravan worktops are strong and durable in most cases but even accidents that happen can push the strength to the limits. This worktop in the picture has seen some heavy item dropped on it which has damaged the unit – this could be filled in or replaced but again older models will be harder to find a matching piece.
Caravan wiring
We've seen some wiring left like this on newer used tourers never mind older ones. Usually a last owner has decided they don't want to leave the radio or whatever behind so some virtually rip them out leaving a trail of tangled wiring which is not only unsightly but could prove a hazard. So make sure this is checked out by the seller – again a dealer will make sure the van is safe and give it a check before despatch so this wiring will be tided and made safe.
Damp
Damp- the dread of any caravanner or motorhome owner come to that, the seals over the years deteriorate and can let in water. This can happen for some time before becoming evident. Check corners and especially inside washrooms. Damp can be treated at its early stages by drying the affected area then resealing and again possibly replacing the damaged wall-board. Bad damp where the wall is all stained and possibly smelling is a sure sign of a van that is in need of serious repairs.
Caracan floor damage
If the caravan floor feels fine to walk on it may be that the floor is still in original condition but to check if the floor has seen some repair look under the bed lockers where a different carpet pattern to the main living area may be spotted. This may indicate that the floor has been repaired and the original carpet damaged in the process, so replaced.
Damp inside the roof lockers
Checking for damp inside the roof lockers can be done by pressing your thumb into the wall-board. Check for spongy feel also look for pin-holes which means damp is present. The wall and ceiling join is the most likely place where damp can be detected. If the area was spongy but has become hard it's dried out and if it can't be seen best left alone.
DIY mistakes
DIY is sometimes not always a great idea. One problem can be that the owner has decided to add a radio aerial or a bracket to put a TV aerial on also. If the holes have not been properly sealed then the whole project is a recipe for disaster. We have seen many a great used buy spoilt by a poor piece of work such as this. So again check out any holes that have been drilled through the side to make sure no water has managed to enter the vans walls.
Caravan heaters
Mainly our picture here is found on older used models – the front of the heater has gone! We don't know why this happens but again it's something that needs to be looked at. A dealer will fix the problem and make sure that the heater is working and safe too.
Does the seating need replacing?
Seating over the years can become less supportive-especially on older vans that may have seen much usage. Sitting on them will tell you how much support is left but again with your hand finding it easy to squeeze this is an indication of the seating needing replacing.
Furniture door panels
Damaged panels on furniture doors can be easily stuck back into position. Over the years some maker's furniture panels do come away with age and need to be repaired. But it's not a major problem but any deal struck should include this repair being carried out.
Caravan upholstery
Upholstery can even become so badly worn it splits – but sometimes this is hidden so check all the seating cushions to make sure that none are splitting. Replacement original upholstery may not be available but caravan breakers are good places to possibly find original upholstery.
Caravan sink units
Badly scratched enamel sinks can be annoying – if you can live with it then that's fine but it's a case of a getting a replacement sink/drainer. That's the good thing about stainless steel sink units as they don't scratch as badly as enamelled coloured ones. Scratched sinks are sometimes the result of leaving plates in when the vans being towed.
Woodwork and veneers
Sun can attack the woodwork and again it's older tourers that suffer most. Check furniture edging where users have over the years brushed the side and in turn take off the photo veneer. But it's mainly sun that does the main damage.
Micro-switch tap units
Older tourers had micro-switch tap units and these after years of use can give trouble. So check these are working – again a dealer will always check and replace where needed. Better to be replaced with a more modern chrome unit too.
Split taps
Still on taps – look for an owner repair such as this. The plastic tap has become split so the owners have put insulation tape over it! Check plastic taps and shower heads for any slight splitting. This is usually caused by the caravan being stored through winter and getting a frost damage with water still trapped in the taps. So under say a week of frosty weather this can freeze the water in the unit and split it!